Gary Rabine, a Republican candidate for governor, stopped at Joe Sippers in downtown Effingham this week during a two-day bus tour through Illinois. His final stop was in Springfield for Republican Day at the Illinois State Fair in Springfield on Thursday.
"My slogan is 'Paving the way to Stay,'" Rabine said in an interview. "I feel like my small businesses shouldn't be here in Illinois, if we wanted to be more profitable and have less overhead and less risk, we wouldn't be in Illinois. And that's wrong. We should be the greatest state in the middle of the greatest country in the world."
Rabine said the three big things he'd want to accomplish as governor are job creation, lower property taxes and preserving the culture of families in Illinois.
"I've been a job creator all of my life," he said. "I started my first business right out of high school. My first 20 years was building that paving business from a seal coating, landscaping and driveway paving business to a commercial parking lot paving business for parking lots in Illinois to paving parking lots across the county."
"I've been blessed to be apart of the American dream," he added.
"For one, I want to create 50,000 jobs a year in Illinois," Rabine said. "It's what we need to get back on our feet and get going in a direction we need to be going."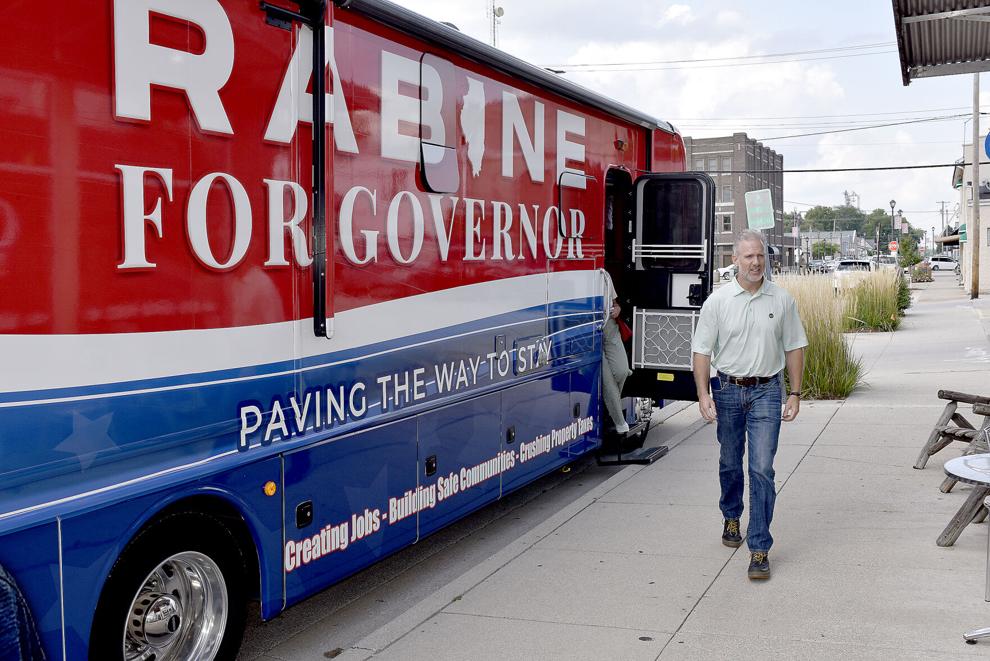 He said the property tax in Illinois is unfair and over three times the average.
"We are robbing equity of Illinoisans all over our state," Rabine said. "Anyone who owns a small house or any property at all are getting robbed of their property value."
"The culture of families in Illinois is being ruined," he said. "When we look at public safety and the laws we are passing in Springfield to handcuff our police is creating a lack of public safety that our citizens culturally do not deserve."
Rabine said he wants to also concentrate on education.
"We need education without indoctrination," he said.
His concerns include masking at schools and sex education curriculum requirements for children in lower grade schools.
"We need to make sure the working family has opportunities and jobs abundantly and we're not going to do that if we keep chasing businesses out of the state of Illinois," he said.
He said Illinois should have new businesses being built, new businesses started and new people moving into the state.
"'Paving the Way to Stay' means we're going to be really competitive to serve the citizens of Illinois," he said. "Instead it's the opposite. Instead we have 80 to 100 thousand people leaving our state every year along with 40 to 50,000 jobs leaving our state every year," Rabine said. "We have got to stop the bleeding and that's my goal."
He said the last 20 years of his career has been about growing small businesses from nothing into medium sized businesses.
"We started about 30 companies in the last 20 years," Rabine said. "About every eight months we've had another LLC started in Illinois."
He said over the last 20 years he has developed several leaders to build businesses to serve his customers.
"If a leader is accountable, responsible and has a passion to serve they are going to be a great leader," he said. "In the state of Illinois I'm not see a lot of that in our leadership. I'm not see a governor who has a passion about serving."
He said there is no reason people should be moving to other states to seek job and business opportunities.
"We've got to get more competitive in Illinois and that is what I'm all about," Rabine said.
"The difference between myself and the other candidates is I've never been a politician. I am a total outsider," he said. "My biggest strength is networking not just here in Illinois, but across America to find the best minds in anything I do."
He said, "What I bring to the table that I think no one else will is a global mindset. I have the network across the country of the best minds in economics, public safety and others that I will be recruiting on my team."
Rabine said he was one of the founders of an organization started the Job Creator's Network who seek out bad Federal regulations that kill jobs. He said the organization has grown to about 200,000 members.
He was one of the first to get behind Turning Point USA founded by Charlie Kirk, who has established chapters on college campuses to teach kids why freedom and free enterprise is important and why socialism and communism are dangerous.
Rabine became a member of the Republican Governors Association (RGA), five years ago for businesses reasons to find out what states were best for potential business expansion.
"I realized after a few years (as member of the RGA) that the best governors were the best common sense people that didn't need the job and made good decisions based on serving compared to being served," he said. "They are a great group of governors who are constantly learning on how to be good leaders."
Today there are 27 Republican governors in the RGA organization, according to Rabine.
"I'm able to be on quarterly meetings and calls with these governors," he said.
Rabine said he has three adult children and a 20-year-old son who is traveling with him on the campaign trail. He said he was married for 35 years before becoming a widower less than 10 months ago.
"She was the most amazing woman in the world. I'm a gutsy and gritty guy, but I am going to be gutsy and grittier knowing that she is up there looking out for me."