Illini Year in Review | Grading all 19 programs | Sports
[ad_1]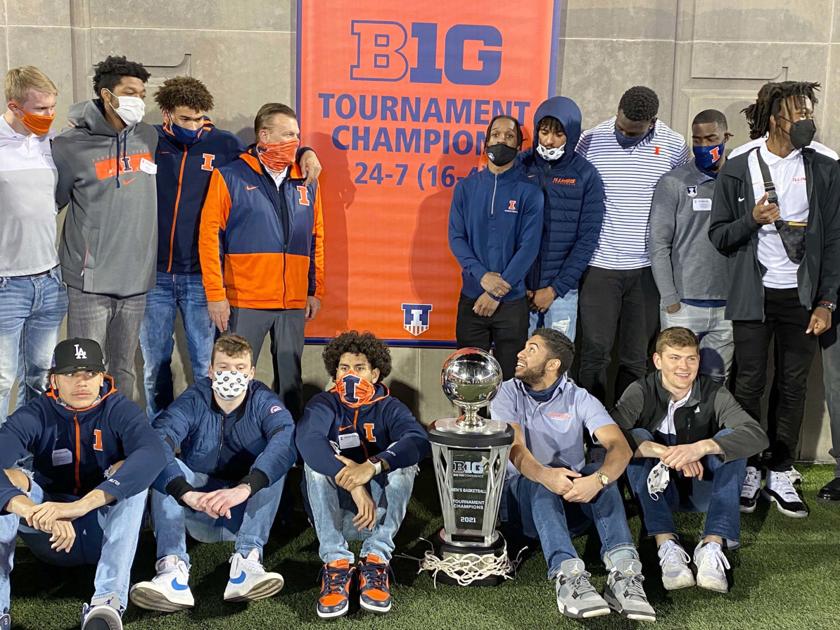 Men's basketball: A
➜ Why an A: Only an early exit in the NCAA tournament marred what was one of the best Illinois basketball seasons in nearly two decades. A record number of Big Ten wins. A pair of All-Americans. And national relevancy for the first time in years.
➜ High point: Six players in double figures delivered an overtime victory against Ohio State and a Big Ten tournament championship. A net was cut down. A trophy hoisted. The next day the Illini were the No. 2 team in the final Associated Press Top 25 poll of the season.
➜ Low point: Consecutive home losses in mid-January to Maryland and Ohio State — both imminently winnable games — were a tough look, but nothing stung more than the loss to Loyola Chicago during the second round of the NCAA tournament.
➜ Big Ten finish: 2nd (albeit disputed)
➜ Last year's grade: A
Men's golf: A
➜ Why an A: It was a typical Illinois golf season with a Big Ten championship and a spot in match play for a shot at the NCAA title. That the season ended in the match play quarterfinals was also kind of typical, but doesn't diminish the rest of the year.
➜ High point: The Illini pulled off a comeback Big Ten championship victory, upending Iowa down the stretch. It was the fifth tournament win of the season and a sixth straight conference title (and 11 of the last 12) for Mike Small's team.
➜ Low point: A match-play victory was there for the taking against top-ranked Oklahoma with Adrien Dumont de Chassart and Michael Feagles posting definitive wins for the Illini. The Sooners rallied, winning the final three matches to end Illinois' season shy of the ultimate goal once more.
➜ Big Ten finish: 1st
➜ Last year's grade: B
Men's tennis: A
➜ Why an A: Let's count the ways. How about a Big Ten tournament title? Or a 19-match winning streak? Or another trip to the Sweet 16? Illinois took advantage of its mostly veteran lineup and got the program back on track after a rough shortened season a year ago.
➜ High point: Ohio State has been Illinois' consistent roadblock to a Big Ten title for the better part of two decades. A trio of comeback singles wins from Hunter Heck, Noe Khlif and Zeke Clark sent the Illini home champions.
➜ Low point: A Big Ten-only season following the ITA national team indoor championships didn't help Illinois' cause when it came to national rankings and NCAA tournament seeding. That's how the Illini wound up facing No. 1 Florida in the Sweet 16 and losing 4-0 to the eventual national champs.
➜ Big Ten finish: 1st
➜ Last year's grade: C-
Women's cross-country: A
➜ Why an A: The pandemic created a postponed, condensed cross-country season. Like two meets condensed. Illinois managed to improve on its finish at the Big Ten championship from 2019 and posted its best finish at the NCAA Championships in more than a decade.
➜ High point: That 21st place finish at the NCAA Championships, led by Rebecca Craddock and Allison McGrath, was one place better than the 2019 season and stands as the seventh highest in program history.
➜ Low point: There really wasn't one. The Big Ten championship (best finish there since 2009, too) and NCAA championship were essentially one-off races in the middle of indoor track season.
➜ Big Ten finish: 3rd
➜ Last year's grade: A
Men's gymnastics: B+
➜ Why a B+: It was a fairly typical season for Illinois, which saw its run of relevancy on the national level continue. The Illini mostly avoided COVID-19 entanglements and powered through a season chock full of injuries to still be in position to compete for a national title.
➜ High point: Making another run to the finals of the NCAA championship, even slipping from third to sixth, is still an accomplishment. Adding an individual national title to the mix in Ian Skirkey's pommel horse championship was the cherry on top.
➜ Low point: The last time the Big Ten championships were held, Illinois nabbed a runner-up finish in Iowa City, Iowa. This year's fourth-place finish was a bit of a disappointment, but notable in a way given coach Justin Spring was down 70 percent of his apparatus lineups because of injuries.
➜ Big Ten finish: 4th
➜ Last year's grade: A-
Soccer: B
➜ Why a B: The Illini finished one game above .500 again this season, which was on par with their effort in 2019. The difference this winter/spring? A significantly better Big Ten record during the conference-only postponed season.
➜ High point: Consecutive road wins at Michigan State and at Northwestern to end the regular season sent Illinois into postseason play with some real momentum and the opportunity to host one of four Big Ten regional during the preliminary round of the conference tournament.
➜ Low point: The season ended in that regional round at Demirjian Park, with seventh-seeded Iowa pulling off a 2-1 upset in overtime just minutes after Makena Silber's own attempt at a golden goal went right into the goalkeepers' arms.
➜ Big Ten finish: 5th
➜ Last year's grade: C-
Women's gymnastics: B-
➜ Why a B-: Home-gym advantage certainly didn't factor into this season for the Illini given their 1-2 record at an empty Huff Hall compared to a 4-1 mark away from Champaign. Even amidst the strangeness of a season in a pandemic, though, Illinois reached another NCAA regional.
➜ High point: The Big Five meet is sort of a preview of the Big Ten Championships considering more than half the league competes. Illinois' runner-up finish, led by Mia Takekawa and Mallory Mizuki, was its best of the year.
➜ Low point: The margin for error in gymnastics is slim. One half step instead of a stuck landing hurts you. Illinois' early March loss at Iowa was its third and final loss of the regular season, and also a third by less than a single point. Just 0.225 points, in fact.
➜ Big Ten finish: T-3rd
➜ Last year's grade: B-
Men's cross-country: B-
➜ Why a B-: There wasn't much of a season to be had, with only the Big Ten Championships and NCAA Championships held in January and March, respectively. The Illini showed improvement in the former, though, finishing three places higher than in 2019.
➜ High point: Only Jon Davis ran at the NCAA Championships, but the Illini veteran earning All-American honors with a 39th-place finish put a positive finish to a rather strange cross-country season.
➜ Low point: A season with only two races didn't really have one. Splitting hairs would make a bottom-four finish in the Big Ten championships the low point, but it was a rather substantial improvement from the previous season.
➜ Big Ten finish: 6th
➜ Last year's grade: C-
Wrestling: C+
➜ Why a C+: It was a bit of a tale of two seasons for Illinois in 2021. Momentum from a terrific start didn't carry over into the second half of the season, as a 1-3 record during the final month ultimately led to another finish near the bottom of the Big Ten.
➜ High point: It didn't get much better than a pair of victories against ranked opponents Jan. 17 at State Farm Center. Particularly when that included an 18-15 upset of No. 8 Ohio State, which included a win for last-minute injury replacement Danny Pucino at 141 pounds.
➜ Low point: The Illini had three wins against ranked teams in its 4-0 start. Then they made a trip to Iowa City, Iowa, to face the No. 1-ranked Hawkeyes. It was a bit of a "back-to-reality" moment, with Iowa cruising to a 36-6 victory.
➜ Big Ten finish: 11th
➜ Last year's grade: C-
Softball: C+
➜ Why a C: Tyra Perry turned Illinois into a regular in the NCAA tournament after she got the job ahead of the 2016 season with three appearances in her first four years. That's set the bar for the program. A bar the Illini didn't reach this spring after a late swoon.
➜ High point: Too bad the entire season couldn't have been played in Leesburg, Fla. That's where Illinois played its first five Big Ten series and won 10 of 12 games, thanks to sweeping Rutgers, No. 17 Michgan and Penn State.
➜ Low point: No Big Ten tournament this season meant teams had to shine in the all-Big Ten regular season for NCAA tournament consideration. Especially down the stretch. The Illini managed to win just four times during their final 12 games.
➜ Big Ten finish: 7th
➜ Last year's grade: C
Baseball: C+
➜ Why a C+: Illinois faced an uphill climb from the start of the season, losing three of four against No. 23 Ohio State in Greenville, S.C. (only in a pandemic). The Illini ultimately hovered around the .500 mark all spring long
➜ High point: Riley Gowens, Ryan O'Hara and Cole Kirschsieper threw a combined no-hitter on April 25 at Purdue. It was the 11th no-hitter in program history and first since "Boo" Champagne no-hit Bradley just one day shy of 36 years to the date.
➜ Low point: Three consecutive series losses to Northwestern, Nebraska and Indiana, including two at home to the Wildcats and Cornhuskers, at the end of March and early April didn't help Illinois escape playing essentially .500 ball all season.
➜ Big Ten finish: 7th
➜ Last year's grade: A-
Women's tennis: C
➜ Why a C: A veteran team, including four key seniors, raised the level of expectation around Atkins Tennis Center, but Illinois couldn't repeat the success of 2018 or 2019, finished .500 on the year and missed out on postseason play.
➜ High point: The Illini finished the regular season on a high note with a win at Purdue and a tight victory against No. 7 Northwestern in their home finale. It was part of 5-2 run during the final month of the regular season that helped them bounce back from a slow start.
➜ Low point: The late February matchup with Northwestern went a bit differently. The ranked Wildcats hosted the early Big Ten showdown and put together a rather dominant 6-1 victory to drop Illinois to 0-3 at that stage of the season.
➜ Big Ten finish: 7th
➜ Last year's grade: C-
Volleyball: C
➜ Why a C: The Illini would have had a shot to salvage a .500 season had two weekend series against Northwestern and Michigan State not been canceled because of COVID-19 concerns for those teams. As it stands, the delayed season yielded the first sub-.500 record since 2012.
➜ High point: At least a tough season ended on a high note. Illinois upset No. 8 Purdue in five sets during its regular-season finale behind a career-high 23 kills from redshirt sophomore outside hitter Bruna Vrankovic.
➜ Low point: Nine of the Illini's 11 losses came against teams ranked in the top 10 in the country. Such is life in the über competitive Big Ten. That left two more losses on the board, with Ohio State sweeping the weekend series at Huff Hall with former UI assistant Jen Flynn Odenburg now leading the Buckeyes.
➜ Big Ten finish: 7th
➜ Last year's grade: B-
Women's golf: C
➜ Why a C: Golf can be fickle. Illinois returned nearly its entire lineup intact, including a "super-senior" season from No. 1 Tristyn Nowlin, but the results weren't quite there. Particularly compared to the last full season (2018-19) that featured many of the same golfers.
➜ High point: A trip to South Carolina in late March delivered Illinois' best finish of the season, with the Illini coming in fifth at the Clemson Invitational. Nowlin tied for third with the best 54-hole score of the year for the team (5-under), and Isabel Sy and Crystal Wang were also in the top 15 individually.
➜ Low point: Even top-10 finishes for Nowlin and Wang weren't enough in mid-March in another trip to South Carolina. Illinois finished 11th of 18 teams and 29 strokes off the lead at the Briar's Creek Invitational hosted by Charleston.
➜ Big Ten finish: 9th
➜ Last year's grade: B
Men's track and field: C-
➜ Why a C-: Illinois hasn't been able to match its individual success (several Big Ten champs and All-Americans) with team success since winning the 2015 Big Ten outdoor championship. This spring featured more of the same.
➜ High point: Hosting the Big Ten outdoor championship at brand new Demirjian Park yielded four conference titles. Those victories, both on the track and in field events, yielded the program's best team finish in four years.
➜ Low point: Not many options to choose from here, with no team scores kept in the majority of events this spring. That makes it the Larry Wieczorek Invitational by default, with the Illini finishing third out of five teams at the indoor meet at Iowa.
➜ Big Ten finish: 9th (indoor); 8th (outdoor)
➜ Last year's grade: D+
Women's track and field: D
➜ Why a D: Illinois has finished near (or at) the bottom of the Big Ten during both the indoor and outdoor seasons for just shy of a decade. This season was no different, as team success still eludes Mike Turk and Co.
➜ High point: Olivia Howell carried the torch for the Illini most of the season. She was the last runner standing, earning Second Team All-American status after finishing 10th in the 1,500-meter run at the NCAA outdoor championships in Eugene, Ore.
➜ Low point: Same deal for the Illinois women's team as the men. The Larry Wieczorek Invitational in Iowa City, Iowa, was the only non-Big Ten championship event where team scores were kept, and the Illini finished last.
➜ Big Ten finish: 11th (indoor); 11th (outdoor)
➜ Last year's grade: D
Swimming and diving: D
➜ Why a D: A shortened season didn't do Illinois any favors. The Illini swam just four Big Ten dual meets before the conference championship started, and they got roughed up in two of their three losses.
➜ High point: The lone win of the season came on the road at Nebraska, with Illinois securing a 164-136 victory in the Big Ten dual meet. It was the first conference road win for the Illini since 2015, and freshman Cara Bognar led the way with three individual first-place finishes.
➜ Low point: It wasn't a great Feb. 6 trip to Madison, Wis., to face both Wisconsin and Northwestern. The Badgers put together a 243-57 victory, and Illinois' deficit against the Wildcats was even starker in a 251-49 loss.
➜ Big Ten finish: 12th
➜ Last year's grade: D
Football: D-
➜ Why a D-: A three-game losing streak to end the delayed, eight-game season secured Illinois' spot at the bottom of its division. That both the year-end losing streak and last-place division finish weren't exactly uncommon prompted a coaching change.
➜ High point: Lovie Smith basically had two teams he could beat semi-consistently in Big Ten play — Rutgers and Nebraska. Illinois beat them both on the road on consecutive Saturdays in November. Those were also the only two wins of the season.
➜ Low point: That Graham Mertz ultimately proved to be human later in the year only made the Illini's season-opening loss at Wisconsin worse. Mertz lit up the Illinois defense, completing 20 of 21 passes for 248 yards and five touchdowns in a 45-7 victory.
➜ Big Ten finish: 7th (Big Ten West)
➜ Last year's grade: B-
Women's basketball: D-
➜ Why a D-: Illinois managed to escape a last-place finish in the Big Ten — just barely — but year four of the Nancy Fahey era stood out as a new low for the program. The Illini finished the mostly Big Ten-only season with just five wins (and 18 more losses).
➜ High point: There's just something about Minnesota. Illinois beat the Gophers in the regular-season finale at State Farm Center, with Jeanae Terry falling a single assist short of a triple-double. That win also means half of Fahey's Big Ten victories have come against Minnesota.
➜ Low point: Losses piling up didn't make the 2020-21 season any different from its predecessors. The real blow to the program came after the year concluded, with starters Kennedi Myles (Marquette), J'Naya Ephraim (George Mason) and Terry (Purdue) all hitting the transfer portal by early April.
➜ Big Ten finish: 13th
➜ Last year's grade: D-
Illini Year in Review | Grading all 19 programs | Sports Source link Illini Year in Review | Grading all 19 programs | Sports


[ad_2]
Source link