Illini guard Austin Hutcherson looks 'fabulous' in workouts
[ad_1]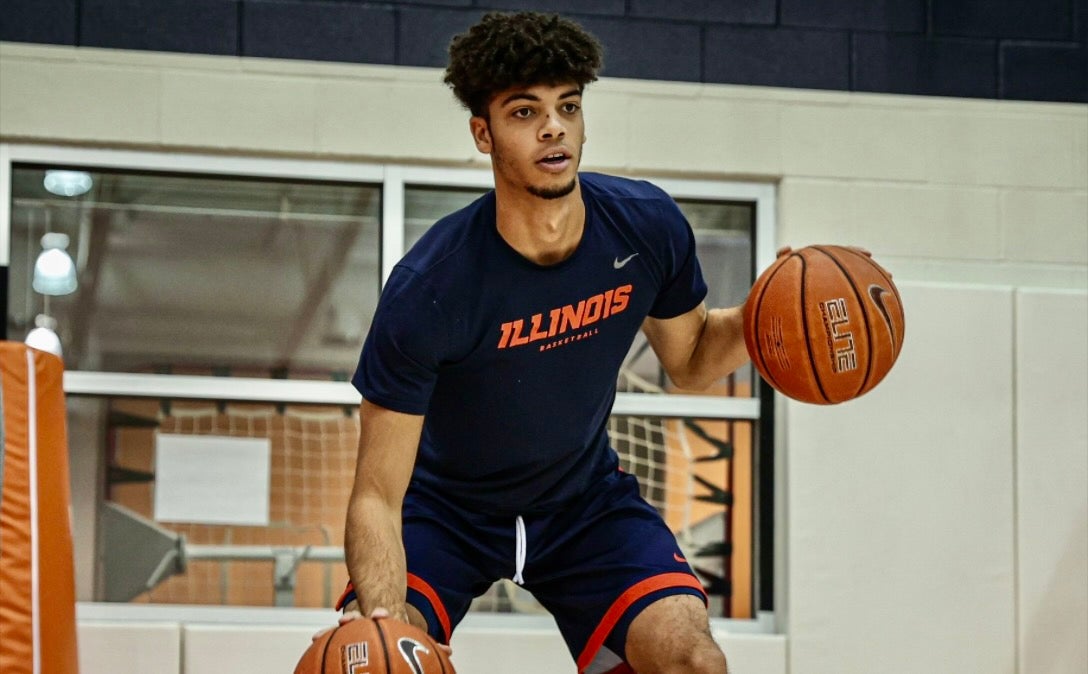 CHAMPAIGN — The Illinois basketball roster rebounded from some early-offseason key losses — Ayo Dosunmu to the NBA Draft and Adam Miller transferring to LSU — thanks to a few high-impact players returning (All-American centers Kofi Cockburn along with super senior guards Trent Frazier and Da'Monte Williams) and two high-major transfer additions: Utah guard Alfonso Plummer and Florida center Omar Payne.
So after the program's best season in 16 years, the Illini once again are expected to be one of the Big Ten's best teams and potentially one of the country's best teams. But the Illini also could get a further internal boost from a talented player who has been on the team for the last two seasons but has not played a game yet for the Illini.
Austin Hutcherson sat out the 2019-20 season due to then-NCAA transfer rules and missed the 2020-21 season due to a back injury and spent the season with his family in California while rehabbing and taking online classes. But the 6-foot-6 guard, who averaged 20.0 points per game as a sophomore at Wesleyan (N.Y.) back in 2018-19, is back on the court for the Illini during offseason workouts
Hutcherson remains a bit of a mystery man because he has not yet played a Division-I game, let alone a Big Ten game yet. But buzz is growing about the potential of the long, athletic guard with good shooting touch, and Illinois coach Brad Underwood added to that this week.
"Hutch has been fabulous," Underwood said. "The most important thing for Hutch is he's healthy. He's a young man who tried his hardest last year to be able to help us and would've helped us a great deal had he been healthy. But we're talking about a guy with a 42-inch vertical. We're talking about a guy who can play one, two or three. We're talking about a guy that is a very, very good shooter. That was missed last year. We missed him on both sides of the court [last season]. A guy that in his first year off with us was really an integral part of helping Ayo get better in terms of guarding him defensively."
Hutcherson, who celebrated his 23rd birthday in April, was expected to play a significant role on last season's Illini team — which finished 24-7 overall (16-4 Big Ten) and earned a No. 1 seed in the NCAA Tournament — with his outside shot-making and versatility at the guard spots. The 6-foot-6 guard shot higher than 41 percent from three during his two-year stint at the D-III level.
But Hutcherson has long battled back issues, dating back to a car accident when he was a freshman in high school. He experienced flare-ups with his back late last season and halted workouts. He sat out the entire summer and made an effort to return this fall, but he wasn't able to stay on the court consistently.
So it's difficult to set expectations for a Hutcherson return given his injury history and lack of experience at college basketball's top level.
But Underwood seems bullish on Hutcherson's ability to impact the Illini on offense and defense. On paper, his shooting, athleticism and length would complement smaller guards Andre Curbelo, Trent Frazier and Alfonso Plummer — all listed 6-foot-2 or under — and potentially allow the Illini to be more patient with freshmen wings RJ Melendez, Luke Goode and Brandin Podziemski. Hutcherson also could give Illinois some dangerous depth of three-point shooters, along with Williams (54.7% from three), Plummer (38.3%), Frazier (36.2%) and Jacob Grandison (41.3%), to surround Curbelo, a maestro distributor, and Cockburn, an imposing post presence.
"I'm excited about his return," Underwood said of Hutcherson. "We're ultimately concerned about his health, and he's been healthy to this point and very healthy. So a guy that's a very good player, and we're excited about him."
?????… pic.twitter.com/SgxGkU6Pli


— Austin Hutcherson (@ahutch_22) June 5, 2021


[ad_2]
Source link