Gameday Central | UTSA 14, Illinois 0; 11:31 left in 2nd quarter | Sports
[ad_1]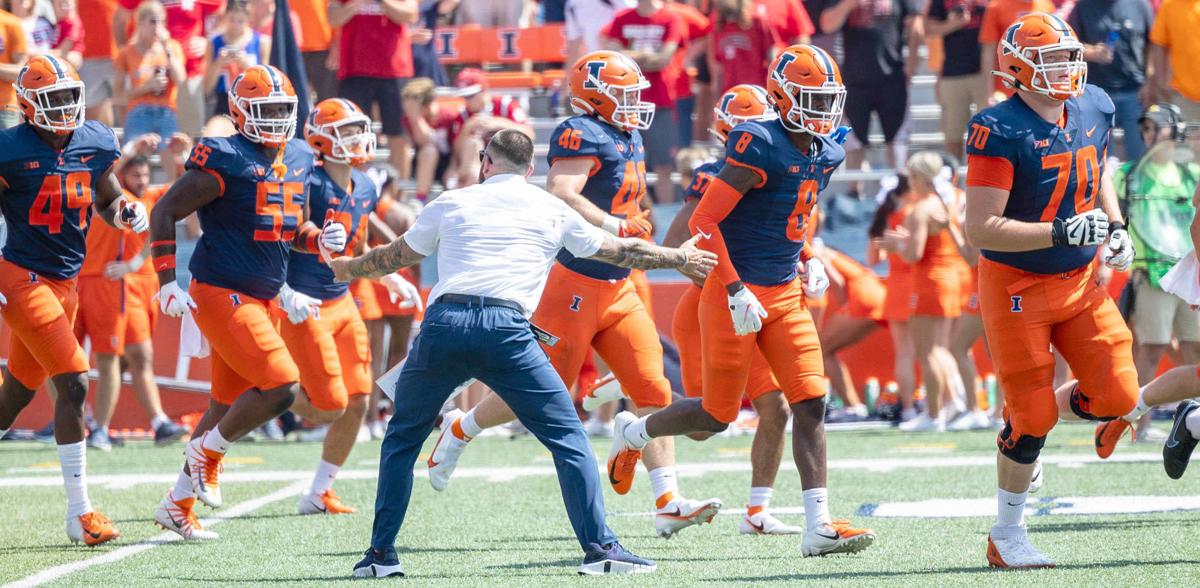 Five straight third down conversions in the last two drives. That's why UTSA is up two touchdowns on Illinois. UTSA quarterback Frank Harris is just dinking and dunking the Roadrunners down the field. Lot of quick hitters in the passing game, and Illinois just hasn't stopped it these last two drives.
The latest drive, which went nine plays for 61 yards, was finished with a 7-yard touchdown run by Brenden Brady. That Sincere McCormick hasn't yet hurt Illinois is either a good thing or a harbinger of some coming disaster if he gets going.
***
Illinois and UTSA played the field position battle through the first two possessions for both teams. The Illini seemed to have the upper hand, with Blake Hayes pinning the Roadrunners inside the 10-yard line on both occasions.
Then UTSA uncorked a 13-play, 94-yard drive that ate 4 minutes, 40 seconds off the clock and put the Roadrunners on top 7-0.
Frank Harris punctuated the scoring drive with a 10-yard touchdown run on a read play. But it was his ability to connect with his wide receivers on third down (something he did multiple times during the drive) that kept UTSA's scoring chance alive. 
Illinois has remained in man coverage defensively, and a series of slant routes (and one out route) saw UTSA's receivers get plenty of separation to make the play.
***
Really only one surprise among Illinois' starters tonight against UTSA and that's Derrick Smith starting at safety. Although, I suppose it shouldn't be a surprise. Illini coach Bret Bielema said Smith would have started last week had he not been forced to sit the first half because of a targeting penalty in the Penn State game at the end of the 2020 season.
Otherwise, the other two new starters were expected. Art Sitkowski gets the nod at quarterback, and Tarique Barnes will start next to Jake Hansen as the second inside linebacker.
Offensive starters
LT – Lowe
LG – Jeresaty
C – Kramer
RG – Pihlstrom
RT – Palczewski
RB – Epstein
TE – Barker
TE – Ford
WR – Williams
WR – Navarro
QB – Sitkowski
Defensive starters
DL – Newton
DL – Randolph
OLB – Gay
OLB – Carney
LB – Barnes
LB – Hansen
STAR – Martin
CB – Witherspoon
CB – Adams
S – D. Smith
S – Brown
***
UTSA has been something of the upset darling for Saturday's slate of college football games. Enough so that Kirk Herbstreit and Lee Corso both picked the Roadrunners on College Gameday.
Big Ten Network's Anthony Herron, who's on the call tonight in Champaign, understands why.
"They're sort of pumping this as greatest team in program history, and I think there's a good reason for it," Herron said. "They're coming off maybe the best season they've had in program history. Illinois is probably the one team that has more experience than UTSA than they're going to play the entire season. (The Roadrunners) have all their starters back, virtually, on both sides of the ball. They've got depth behind that that's been enhanced as well.
"I definitely think this is going to be a competitive game. This is a better run game that Illinois' defense will face tonight than they faced against Nebraska. I'm really expecting this to be extremely competitive."
***
Brandon Peters is dressed for tonight's game against UTSA. That doesn't change the likelihood of backup quarterback Art Sitkowski getting the start. It should be the New Jersey native at QB1 to take on the Roadrunners.
Here's the #Illini not dressed tonight:
WR – Brian Hightower
WR – Jafar Armstrong
WR – Ty Lindemann
WR – Owen Hickey
*LB – Calvin Hart Jr.
LB – Kalen Villanueva
OL – Josh Kreutz
OL – Brody Wisecarver
*OL – Jordyn Slaughter
* — Out for season
***
Illinois played just a single true freshman in last week's game against Nebraska. Outside linebacker Dwayne Johnson got in for some Week 0 action versus the Cornhuskers on special teams.
The plan is for more to see the field against UTSA.
"We'll probably engage him in special teams as well as some play from the line of scrimmage," Illinois coach Bret Bielema said. "A couple other freshmen may get involved in Josh McCray … and there's a chance a couple (defensive backs) will as well. Those are really the only new additions."
***
The players that were out for Illinois last week against Nebraska? Don't expect to see them tonight against UTSA. 
"Nobody's back from a week ago," Illinois coach Bret Bielema said Friday afternoon.
That means Illinois will be down some wide receivers, namely Brian Hightower, Jafar Armstrong and Marquez Beason. Then there's the obvious players out like Calvin Hart Jr.  and Brandon Peters.
It will be the Art Sitkowski show at quarterback for the Illini against the Roadrunners, but Peters' return isn't too far off in the future.
"I think he'll be back sooner than later," Bielema said of Peters. "The injury was really just an AC sprain to his non-throwing shoulder. He got a lot better in a hurry this week."
To save you from Googling what Peters' injury is, I went ahead and did it myself. Here's what the internet had to say:
"The AC joint is made of 4 ligaments that hold the collar bone to the shoulder blade, or scapula. With an AC joint sprain, these ligaments may be partly or fully torn. In both cases, this causes pain and swelling at the end of the collar bone. If the ligaments are completely torn, the collar bone will rise up."
***
Bret Bielema's "honeymoon period" got a one-week extension after Illinois took care of business during its Week 0 win against Nebraska. Not just a win. A Big Ten win. Not just a Big Ten win. A Big Ten win against a divisional opponent.
All is still well in Champaign heading into tonight's game against Texas San Antonio. Fans will probably be in an even better mood given the 6:30 p.m. kickoff on Big Ten Network. Any primetime opportunities for the Illini are more well received than the typical 11 a.m. starts.
Maintaining that sense of enthusiasm and excitement for the program is Illinois' goal against UTSA. There's no such thing as a "must win" game for a first-year coach, but tonight's matchup between the Illini and the Roadrunners falls in the "better if you don't lose" camp for Bielema and Co.
A win insures fans stay invested. A loss isn't the end of the world (because UTSA is better than the average fan thinks), but it would certainly be an early ding on Illinois' 2021 resume. 
How Illinois is able to manage its success in Week 0 against the Cornhuskers and resulting rise in expectations will be critical against UTSA. Odds are the Illini, laden with 40 seniors, super and otherwise, manages that new reality OK. 
The thing is, UTSA has a similarly veteran team. Not 22 super seniors, but plenty of them. All back after the Roadrunners went 7-5 and made it to a bowl game in the 2020 pandemic season.
A winnable game for Illinois in Champaign tonight? Absolutely. An easily winnnable game? Probably not. 


[ad_2]
Source link