Elmhurst Chamber Of Commerce: ECCI To Induct Ahlgrims Into Civic Hall Of Fame
[ad_1]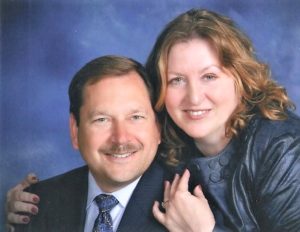 Local businesspeople and community volunteers Scott and Charity Ahlgrim, formerly of Elmhurst, will be honored as the 2020 inductees into the exclusive Elmhurst Chamber of Commerce & Industry Civic Hall of Fame.
he Ahlgrims will become the Hall of Fame's 29th and 30th members (and first couple) during the induction ceremony at the Chamber's 102nd Annual Awards Gala held in the Normandy Banquet Room at Elmhurst American Legion THB Post 187 on Wednesday, September 8, 2021, from 7:30 to 10 a.m.
"According to Charity, marrying Scott (in 2008), whom she calls her best friend, was the best community service she has performed," stated John R. Quigley, ECCI President and CEO since 1999, and active in the Elmhurst Chamber for 29 years, "while Scott gives Charity all the credit for bringing out the best in him."
A fourth generation funeral director, Scott Ahlgrim owned and operated the Ahlgrim Funeral Home in the Spring Road Business District for 22 years before his March 2020 sale to another family-run funeral operation with locations in Lake Forest and Chicago.
Scott Algrim became a Licensed Funeral Director upon graduation from Worsham College of Mortuary Science, following the legacy of his great-grandfather Arthur—who opened the Ahlgrim Undertaking Parlor in Chicago in 1892—grandfather Walter and father Arthur, whom he joined in 1986 and eventually succeeded in 1998.
After a community banker in Elmhurst for more than four decades—the last 12 years as Vice President and Business Development Officer at Community Bank of Elmhurst—Charity Ahlgrim retired in 2016 to work with her husband at Ahlgrim Funeral Home.
Charity Ahlgrim (Pigoni then) started her Elmhurst banking career at York State Bank in the York and Vallette Business District and continued through ownership changes to First Colonial Bank, Firstar Bank and then US Bank, taking over the Spring Road branch.
Scott Ahlgrim is a Past President of the DuPage County Funeral Directors Association and served on the Board of Directors of the Funeral Directors Service Association of Greater Chicago and Lutheran Outdoor Ministries Center.
A member of the prestigious Order of the Golden Rule and their 2016 their Exemplary Service Award recipient, Scott Ahlgrim also was a member of the DuPage Funeral Directors Association, Funeral Directors Service Association of Greater Chicago, Illinois Funeral Directors Association and National Funeral Directors Association.
A 1975 graduate of Elmhurst's York Community High School, Scott Ahlgrim served on the Board of Directors of the Elmhurst Walk-In Assistance Network.
The Ahlgrims were long active in the organization and events of the Spring Road Business Association. Scott served as President for multiple years prior to his retirement and Charity also was a multiple-term President.
The Ahlgrim Funeral Home parking lot served as the staging area for the Annual Spring Road Pet Parade each May.
The Ahlgrims were both active members of the Rotary Club of Elmhurst, which recognized Charity for her role in the Polio Eradication Program. Scott is a Past President.
Charity Ahlgrim played an instrumental role in the founding of and organizing of Elmhurst's Annual St. Patrick's Day Parade, along with realtor Frank Catalano Sr. and the late Doug Kuester, then Owner of Great American Exteriors. In 2002, the trio was honored to ride as the Parade's Grand Marshals.
Originally conceived during the Ahlgrim's wedding reception as a St. Pat's Day Parade entry, the Elmhurst Armpit Orchestra honored Charity as its St. Patrick's Day Queen and Scott as its Distinguished Service Award recipient, both in 2015.
Charity Ahlgrim partnered with The Silverado Grill on both a State of Illinois award-winning Business and Education Partnership Program for youths (1991-2016) and the American Cancer Society's Elmhurst Relay for Life.
For years, Charity Ahlgrim assisted former Illinois Attorney General Jim Ryan of Elmhurst and his wife, Marie, in staging the Annie Ryan 5-K Run to raise funds to advance treatments for pediatric brain cancer following the 1997 loss of their 12-year-old daughter.
The Ahlgrims were supportive members of the Elmhurst Chamber of Commerce and Industry, with service on the Board of Directors, Executive Committee, Standing Committees, Special Event Committee and the green-coated Ambassadors.
Scott Ahlgrim was elected to a three-year Board term (1997-99) that ended the same month that Directors approved the hiring of Quigley as President and CEO to succeed the late A.J. "Toche" Terrones, who passed away the previous July after a 10-year tenure.
Charity Ahlgrim was elected twice to three-year ECCI Board terms (2007-13) after her 2006 appointment to fill a Director's seat, and was re-appointed to fill a vacancy in 2015 after serving two one-year appointed terms as Board Treasurer (2014-15), an Executive Committee position. In 2016, she was elected to the Executive Committee as Second Vice Chair and chair of the Membership Committee following her decade of service on the Marketing Committee.
A longtime volunteer at the Steak Fry and Elmfest (where the Ahlgrims regularly staffed the Entertainment Center ticket booth), Charity also served as a Chamber Director in the 1990s and is a former member of the Chamber Ambassadors.
Charity Ahlgrim is a two-time recipient of the Chairman's Award (2011 and 2016), which is traditionally given to a member of the Chamber's Board of Directors for his/her outstanding service to the Board, Chairman and President/CEO or to a non-Director for praiseworthy contributions or performance.
"Whether for our Chamber, the Spring Road Business Association, the York and Vallette Business Association before that, or any number of civic, business and charitable causes, Charity always contributes above and beyond the call duty," Quigley stated in a press release following her 2016 Chairman's Award recognition.
Charity Ahlgrim also was elected Treasurer for the City of Elmhurst from 2005-09, and served as an appointed Board member of the Elmhurst Police and Elmhurst Fire Pension Funds, with 2006 certification from Northern Illinois University. She served as a Trustee for the Elmhurst Memorial Hospital Foundation, Board member for the People for Elmhurst Parks (PEP) Foundation, Planning Committee member for Elmhurst American Legion's Military Ball and a member of League of Women Voters of Elmhurst.
The Ahlgrims are active members of St. Peter's United Church of Christ in Elmhurst, where Scott served on the Board of Deacons.
The couple's blended family includes three children and four grandchildren.
The Civic Hall of Fame was established in 1992 to recognize women and men who make major contributions to the Elmhurst community. Up through 2008, inductions were conducted during the Opening Ceremonies of Elmfest. The 2009 inductee was honored at the Chamber's Spring Luncheon in April of 2010.
The late Joe Newton, legendary boys' cross country coach at York Community High School was the inaugural Hall of Fame inductee.
Preceding the Ahlgrims as Hall of Fame inductees were: Eleanor King Hookam (1993), Elmhurst Art Museum; Dr. Ivan E. Frick (1994), Elmhurst College; Joseph Wagner (1995), York Furrier; Jean Haselhorst (1996), Elmhurst Park District; Robert M. Magnuson (1997), Elmhurst Memorial Hospital; Virginia J. Harmon (1998), Unique Travel Services; Illinois House of Representative Lee A. Daniels (R-46th District) (1999); A.J. "Toche" Terrones (2000), Elmhurst Chamber of Commerce & Industry; William C. "Bill" Gooch Jr. (2001), Community Bank of Elmhurst; Willis Johnson (2002), York Theatre; Fred Messerschmidt (2003), Elmhurst Federal Savings & Loan; Jim Van Ewyk (2004), Pfund and Clint Florists; Jacquelyn Haddad (2005), Elmhurst Junior Women's Club; Thomas O. Myers Jr. (2006), Thomas O. Myers Real Estate; Abner Ganet (2007), Leonard's Men's Store and Mayor of Elmhurst; Jan Pauli (2008), Pauli's Marathon; Bob Schiller (2009), Schiller Real Estate; Thomas D. Marcucci, four-term Mayor of Elmhurst (2010); Rich Grodsky, Elmhurst Park District (2011); Pete Cruger, Elmhurst Independent (2012); Doug Beach, Elmhurst College Jazz Band Director (2013); Betsy Hanisch, Elmhurst businesswomen, civic leader and community volunteer (2014); Ralph Pechanio (2015), retired banker, civic leader and community volunteer; Darrell Whistler, retired businessman, civic leader and community volunteer; Jack Island (2017), Owner of The Silverado Grill; Genie Urick (2018), cable TV producer, author and community volunteer; and William "Bill" Shanklin (2019), Post 187 Sergeant-at-Arms.
Established in 1918, the Elmhurst Chamber of Commerce & Industry is a voluntary organization of business and professional men and women who have joined together to promote the civic and commercial progress of the community.
The Elmhurst Chamber's mission is to promote an environment that creates success for local businesses and our community.
The Chamber also serves the needs of its members through services, programs and events that provide opportunities for networking and referral, business education, development and promotion, governmental representation and community involvement.
---
This press release was produced by the Elmhurst Chamber of Commerce. The views expressed here are the author's own.
[ad_2]
Source link