After pandemic pause, DIA to 'restart the conversation' on Illini hockey project
[ad_1]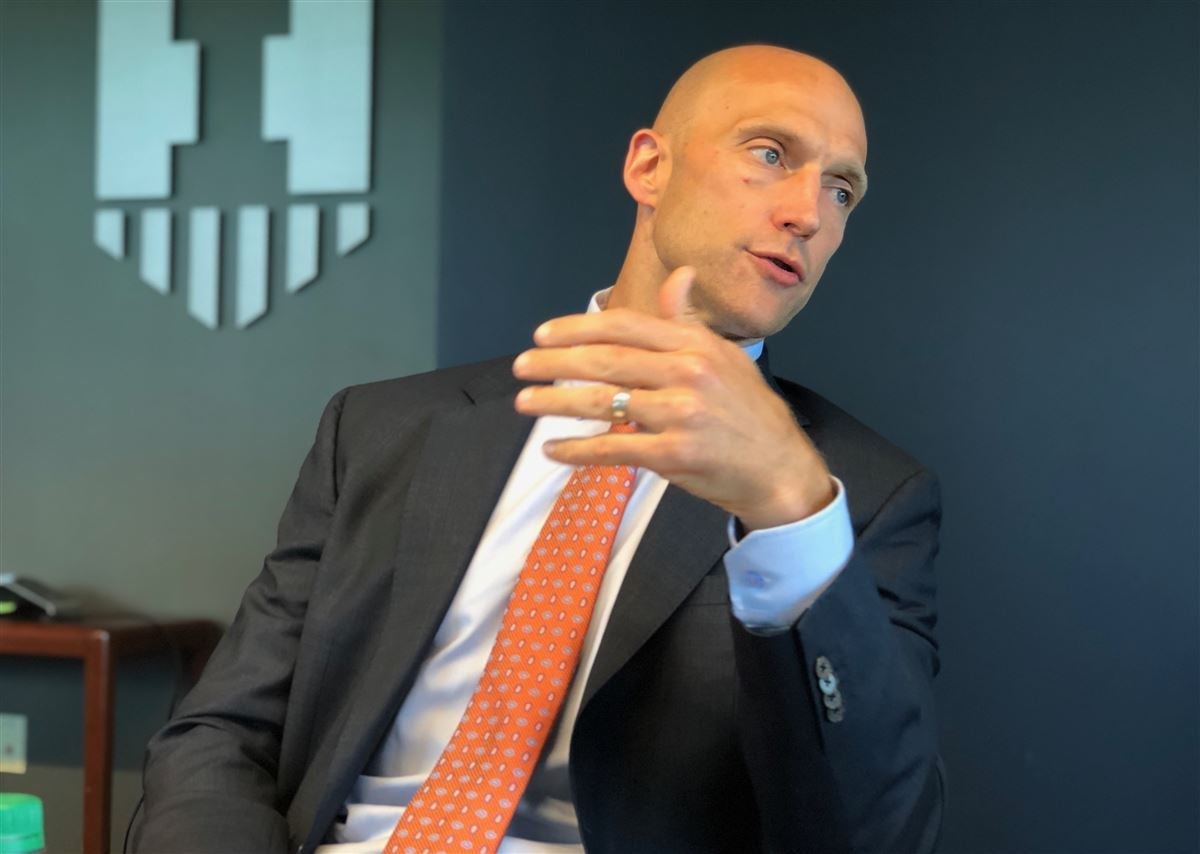 Nearly 15 months ago, Josh Whitman believed the establishment of a Division-I men's hockey program at Illinois was in the "red zone." Just before the pandemic hit last March, the Illinois athletic director was ready to give the green light on the project he and the athletic department had been enthusiastically working on for more than three years.
But then COVID-19 shut down college athletics, the economy and really the entire world. Whitman's focus was forced to shift away from new projects like a hockey program in turn for the health and safety of his student-athletes as well as the financial burden his Division of Intercollegiate Athletics would face.
With an anticipated net loss of $12 million to 18 million during the past fiscal year, Whitman estimates, implementing the hockey program anytime soon would require financial support from dozens of partnerships and donors within the community. While Whitman already had most of those financial commitments in place before last March, a 15-month pandemic pause has the project facing a reboot — and probably a resetting of expectations of the feasibility of the project.
"I think that we're looking to restart those conversations here," Whitman said at Wednesday's annual media roundtable. "We've had a few emails back and forth with people about getting the band back together, so to speak. We put together a pretty robust partnership with different entities who had invested interest in seeing that project happen. And basically we said to them when the pandemic hit, 'Look, we've all got our own stuff to deal with, let's go deal with our own stuff and at the right time, we'll come back together, take everybody's temperature, see where we're at in kind of reassess at that point.' And so we're just now starting to reopen some of the discussions. I think we'll be having certain meetings with partners here over the next month or two months. Things will continue to need to clarify themselves, obviously, on the financial side for us, but I expect for many of our partners as well. So we'll come back to it."
Establishing the hockey program had implications beyond just one new, potentially revenue-generating sport. The anticipated $100 million arena to be located in downtown Champaign was also going to be home to the Illini volleyball, wrestling and men's and women's gymnastics programs. It would also be available for certain community events and youth sports. But now, all four of those Illini teams will be looked at in the Phase 2 sector of Whitman's master facility renovation plan.
Right now, volleyball and men's and women's gymnastics all compete at Huff Hall while the wrestling team recently announced future meets will be in the State Farm Center. Without a hockey program and the downtown facility to go with it, those three programs, which typically have success each year, will be waiting several years for new facilities.
If Whitman still decides to go through with establishing a Division-I men's hockey program, it would likely be another few years in the making. While the athletic department had many financial commitments, they never took any money as the project was never 100% certain.
"We had intentionally not taken any cash for hockey," Whitman said. "We had a lot of commitments, people who were committed to helping us funded if we needed to, or when and if we were ready to. But because it was uncertain for the very reasons you're describing, we said, 'Look, once we're ready, then we'll come to you and we'll actually start to receive some of the funds.' But at that point in time, we hadn't asked anybody to actually write a check. … We know where we think the money was. We just need to go back and see if it's still there or not."
The financial complications are just part of the decision. Fan and community interest in a hockey team is just as important. Only six other Big Ten schools have men's hockey programs — Minnesota, Michigan, Michigan State, Ohio State, Penn State and Wisconsin. Notre Dame also competes within the Big Ten conference for hockey as an associate member.
But the pandemic has proved the entire landscape of college sports is changing whether that be through NIL bills, gambling or even the cutting of certain programs. According to the Business of College Sports, three Division-I men's hockey programs — Robert Morris, University of Alabama in Huntsville and Alaska-Anchorage — have either been cut or suspended during the pandemic.
Other sports like men's and women's tennis, men's and women's swim and dive, baseball and men's indoor track and field have seen their Division-I representation dramatically drop over the past year. And with the current fiscal year wrapping up in a couple weeks, universities will be reassessing their losses and potentially make more cuts.
"I do think that, again, based on our initial analysis, we had determined that hockey could be a revenue sport for us," Whitman said. "We think it would be the third revenue sport after football and men's basketball. And so we were hopeful that our fans would embrace it, and then we would be able to really see it as a driver of attendance and engagement with our fans. But that does change if the number of teams participating drops dramatically. And so that is something that we would have to monitor and take into account. And that's the other thing is I think at this juncture, we want to see how some of these different variables do resolve themselves."
Now it's just a waiting game. Once Whitman finalizes the loss of revenue from 2020-2021 and meets with potential donors and partners for the hockey program, he will be able to assess if the athletic department can even handle the costs. Then, it becomes whether or not there is fan support and desire for a hockey team.
Even though a hockey program has been a plan for a few years now, Whitman isn't rushing into a decision either way. But what he can promise is he will re-engage the conversation and gauge interest from all parties.
"We were very, very close to green-lighting hockey, there's no question about that," Whitman said. "Because of how close we were, I feel obligated to restart the conversations and just reassess and see, where are we at this point? Are we still in the red zone? Are we back backed up against our opponents on our own goal line, to continue to use that analogy. What I don't feel is obligated to do it. I think that the pandemic, if nothing else, has given us flexibility to figure out what makes sense in this new space.
"So we definitely need to restart the conversation, we definitely need to go through the analysis and evaluation again. I think it's entirely possible that we could end up in a different place than we thought we're going to be. But because of how far we've gone, because of really the loyalty that we have to the different partners around the project, there's benefit there to be had for a lot of people, a lot of organizations, the city of Champaign and a lot of local businesses. We owe it to them to try and see where it lands."


[ad_2]
Source link